A PRACTICAL RADIOLOGY HANDBOOK DEMYSTIFYING COMMON PATIENT QUESTIONS AND ISSUES
The book discusses many common issues which arise in daily radiology practice, but are not answered correctly in view of lack of knowledge. The book should serve all the practising radiologists and help them in daily practice. Postgraduate students/residents in radiology will also be greatly benefitted.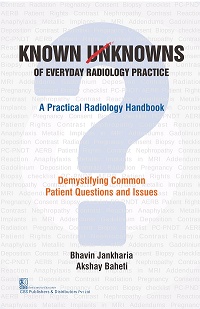 Book Description:
This is the first book of its kind in India and many parts of the world that directly addresses common issues that crop up virtually daily in our radiology practices, but often are not dealt with or answered correctly because of various myths and lack of current knowledge. This book tackles these "known unknowns" and demystifies issues related to radiation risk, usage of contrast media, contrast media reactions, pregnancy and radiation and contrast media, patient consent, patient rights, etc. Chapters have been primarily written by Dr Akshay Baheti and Dr Bhavin Jankharia, with contributions from Dr Aparna Katdare, Dr Sharad Maheshwari, Dr Milind Gune and Dr Samir Gandhi.
Examples of questions you will be able to answer after reading the book include:
10 week pregnant lady with a single live fetus on a recent USG had a single phase CT abdomen at 4 weeks. How high is the risk of the baby developing a malformation due to the CT? Should she abort or not?
A CKD patient with scheduled dialysis tomorrow needs an urgent CT pulmonary angiography. Should you do it now or wait till tomorrow?
A CKD patient is referred for an indicated CT pulmonary angiogram with a creatinine of 2.5 mg/dL (eGFR of 23). Would you perform the CT?
A 29 year old patient with past history of seminoma has had 4 prior CTs. He has a surveillance CT scheduled with you today, and asks whether the risk of cancer is more on this 5th CT compared to the previous ones. Would you say yes or no?
A patient with a cardiac pacemaker needs an urgent indicated MRI. Can you do it or not?
Table of Contents
Radiation and Patient Safety: Current Status and Guidelines. Bhavin Jankharia, Akshay Baheti
Contrast Media: Current Guidelines for Iodinated and Gadolinium-based Contrast Administration. Akshay Baheti, Sharad Maheshwari
CT and MRI in Pregnancy: Current Status. Akshay Baheti, Aparna Katdare, Bhavin Jankharia
Management of Contrast Reactions and Extravasation: Guidelines and Protocols. Akshay Baheti, Sharad Maheshwari
Contraindications to MRI. Bhavin Jankharia, Akshay Baheti
Obtaining Consent: Current Status
a. Consent for Contrast-enhanced CT/MRI. Akshay Baheti, Bhavin Jankhari
b. Consent for Interventional Procedures. Bhavin Jankharia, Akshay Baheti
Biopsy Checklist: What to Confirm before Inserting the Needle. Akshay Baheti, Bhavin Jankharia
Patient Rights and 'Un-rights'. Bhavin Jankharia
Reports- Do's and Don'ts. Bhavin Jankhari
The Radiologist and the Atomic Energy Regulation Board. Samir Gandhi
Practical Pre-Conception Pre-Natal Sex Determination Act. Milind Gune
Book Information:
| | |
| --- | --- |
| ISBN | 9789387085879 |
| Publishers | CBS Publishers & Distributors |
| Author | Bhavin Jankharia | Akshay Baheti |
| Binding | Paperback |
| Edition | 1\e |
| Year | 2018 |
| Pages | 104 |
| Subject | Radiology |
| About the Author | Bhavin Jankharia MD is a partner and consultant radiologist at Picture This: Imaging & Beyond by Jankharia and practices cardiothoracic and musculoskeletal radiology and interventional CT. He has been the President of the Indian Radiology and Imaging Association in 2014 and the Editor-in-Chief of the Indian Journal of Radiology and Imaging for six years prior to that. He has been running an NGO for radiology education called Radiology Education Foundation since 1996. He is passionate about radiology teaching.Akshay Baheti MD After completing his MBBS and MD (Radiology) from Seth GS Medical College and KEM Hospital, Mumbai, he pursued fellowship training in the US for three years. He has completed fellowships in oncoimaging from Dana Farber Cancer Institute, Brigham and Women's Hospital, Harvard Medical School, abdominal imaging from the University of Washington Medical Center, Seattle, and pediatric imaging from Seattle Children's Hospital. He works as Assistant Professor at Tata Memorial Hospital, Mumbai, and is also affiliate instructor at the Body Imaging Section, University of Washington Medical Center, Seattle. His fields of interest include abdominal and pediatric oncoimaging, contrast-related and patient-related issues, medical journalism, and radiology education. |
Cost of the book is Rs.350. (Includes shipping charges in India). This will be the discounted price till the 30th of April 2018.
For international shipping please email us at info@refindia.net to get the quote.
Online Payment